smartR AI Awarded for AI Solutions Provider of the Year, 2023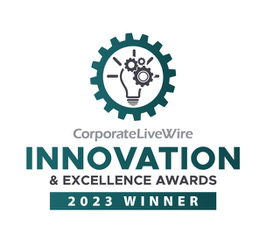 smartR AI™ is delighted to announce its recognition as the AI Solutions Provider of the Year 2023, awarded by Corporate LiveWire, Innovation and Excellence Awards 2023.
The company has been recognized particularly for the development of its innovative wearable AI technology, the smartR watch, which offers access to a breadth of the wearer's personal data gathered by sensors.
Over the past year 27,515 nominations were received by the awards team at Corporate LiveWire from 34 countries around the world. Winners were chosen for industry recognition, innovative use of technology in research and development, branding, and most importantly service excellence.
Awards Judge, Osmaan Mahmood commented: "Each winner has made a substantial contribution to their sector with an innovative view to pushing business success and ideas. We look forward to seeing how they will continue to demonstrate their commitment in the future".
The smartR watch combines intelligent algorithms and sensors to provide an unparalleled view of the wearer's physiological data. Powered by the company's alertR™ engine, any information that is moved to or from the watch is fully-encrypted, and can only be unlocked by the user's trusted devices making it a highly-secure technology. The innovative wearable is yet another illustration of smartR AI's dedication to the creation of interactive applications that continue to learn and provide customers with unparalleled advantages.
smartR AI continues to innovate, developing intelligence-based proprietary engines for optimal performance and efficiency. Solving complex real-world problems and optimizing decision-making the company uses its intelligence-based proprietary engines, SERLE and alertR™. alertR is smartR AI's latest engine, launched at the end of 2022 and gaining traction within the healthcare market currently.  The smartR myGPT engine is the latest addition to smartR AI's growing range of platforms, providing customers with their very own private GPT with total data privacy and security within its own private ecosystem.
Commenting on the award presentation, founder and CEO of smartR AI Oliver King-Smith, said:   "We at smartR AI are overjoyed to have received recognition for the outstanding work we are doing in the AI field. Our clients' products and applications have benefited greatly from our successes employing cutting-edge AI methods. I'd like to say a big thank you to the smartR AI team for all the hard work you have put in over the past year; Without your commitment to doing things in the smartest way, we couldn't have achieved this outstanding result."
About Corporate LiveWire's Innovation and Excellence Awards
The Corporate LiveWire Awards represent the pinnacle of business achievement, championing the best in their respective fields.  The corporate awards cover the most important sectors of business, from Finance advisories, Funding providers to Law firms and specialist advisory companies that deal with mergers and acquisitions. The Corporate LiveWire team is committed to identifying market leaders, innovators and enterprising start-ups through in-depth research, word of mouth and first-hand experience. For a full list follow this link, along with their press release.
Corporate LiveWire is brought to you by Fenice Media Ltd., a publishing house with an international presence. The company offers both printed and digital media offering news and insight to readers from around the world.
For more information on the awards or to vote in Corporate LiveWire's upcoming award programs please click here.